Lifestyle
October 24, 2023
Entertaining tips to host this Halloween
Halloween is just around the corner, which means one thing: it's time to start planning the spookiest party of the year! Whether you're hosting a small gathering or a full-blown haunted bash, these tips will help you create a memorable Halloween experience for your guests. From decorations to games, costumes, and treats, we've got you covered for a frightfully fun night!
Host a pumpkin carving competition
Tap into your guests' competitive side by hosting a pumpkin carving competition. Have your friends and family compete to see who can create the best carved or painted pumpkin. If you don't have the space to accommodate a pumpkin carving battle, you could ask guests to bring their entries from home to be judged for a prize. But if you really want to make things interesting, lay down some newspaper on your dining table, set a timer and watch the fun and chaos ensue!
Look up some spooky recipes
Every party needs a good spread, and Halloween is the perfect time to get creative with food. There's no end of seasonal recipes online to make your buffet or sit-down meal one to remember. Create a creepy menu with dishes like "mummy fingers" (sausages wrapped in pastry "bandages"), "monster eyeballs" (boiled eggs with olive slices), and "witches' brew" (a punch made with lime sherbet and ginger ale). Don't forget to include themed desserts like pumpkin-shaped cookies and toffee apples for a sweet treat.
Extend the party outdoors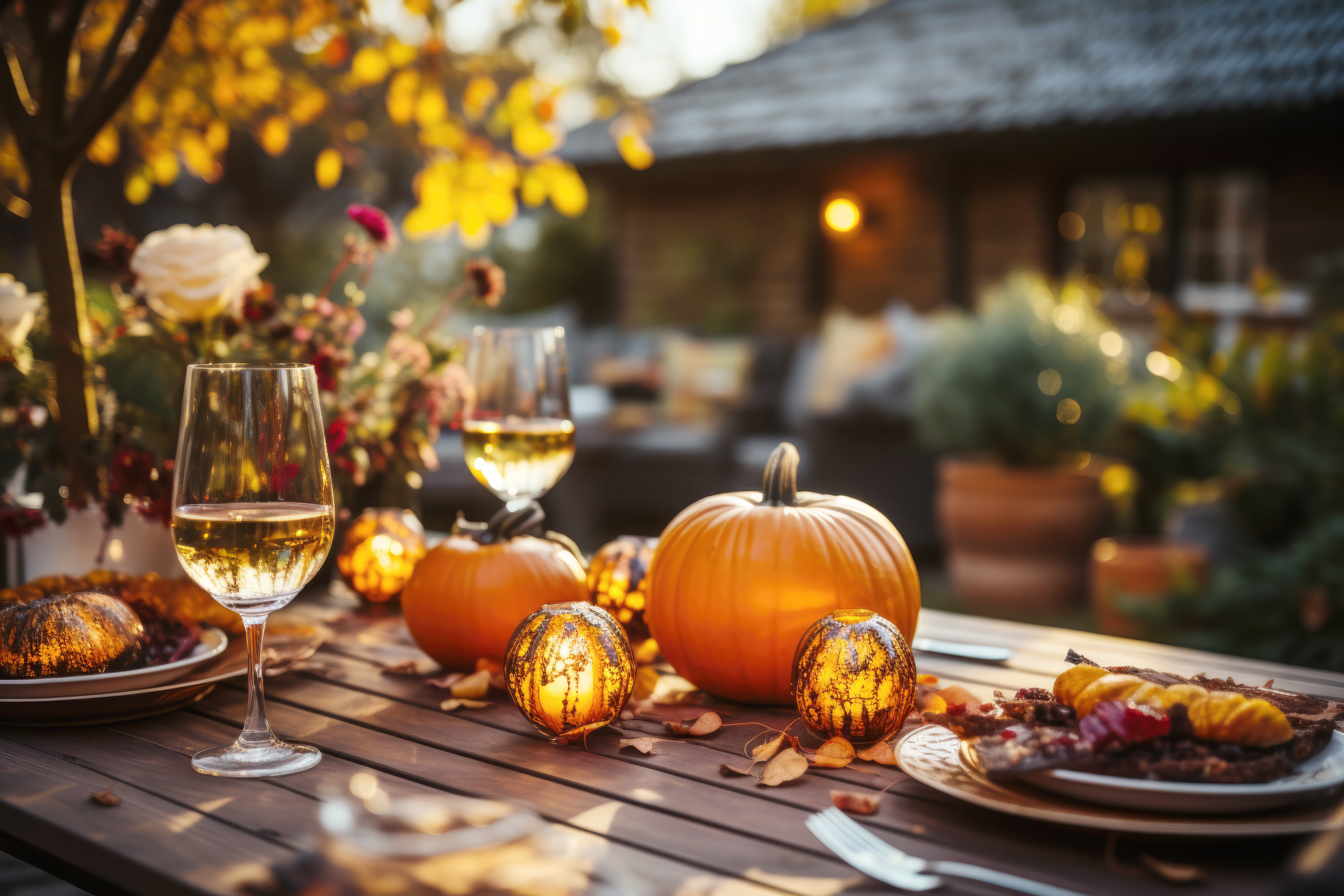 Halloween is a chilling season, so why not let your guests venture outdoors? Indoor parties can get stuffy and some people might want a breather, so get your firepit ready, dress up your garden with some good old-fashioned motion-activated jump scares, and set up a cosy seating area to extend your party outdoors.
Play into the fear of the unknown by creating fun mystery boxes. Simply cut holes into the sides of cardboard boxes and have your guests try and feel around for what's inside. Some good options include cold, cooked spaghetti, skinned grapes, and passion fruit halves.
Host a horror movie marathon
If you're all for Halloween, but not so much for partying, you could turn your living room into a mini cinema by hosting a screening of classic horror films. Create a cosy viewing area with blankets and pillows, and offer out popcorn, snacks, and themed cocktails for your guests to enjoy while watching their favourite spooky flicks.
Set the mood with themed decor
Transform your home into a haunted mansion with eerie decorations. Consider using cobwebs, fake spiders, skeletons, and flickering candles to create an eerie atmosphere. You can even take it up a notch with fog machines and spooky soundtracks to set the mood. For a more refined party aesthetic, decorate with lanterns, candles and carved pumpkins – they're a Halloween must-have!
Create a haunted photo booth
Design a photo booth area with props and backdrops related to Halloween and horror themes. Your guests will have a blast taking pictures to remember the night. Share these photos on social media or print them out as keepsakes for your guests to take home.
Establish a costume theme
Halloween gatherings are all about dressing up, but sometimes deciding on a costume can leave some of your guests in a kerfuffle. Make the decision easier by narrowing down their options with a specific theme. Whether it's scary movie characters, witches and wizards, ghosts, or zombies, you can match your home's décor to the theme to really create an immersive experience. You can even have a costume contest with prizes for the best, scariest, and most original outfits. This will not only add to the fun but also create fantastic photo opportunities.
Are you looking to move somewhere more suited to your needs? Contact your local Guild Member today to get the ball rolling.